Description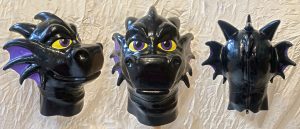 This is an advance order for a Water dragon hood. You will be billed the full amount and the hood will be made and dispatched to you within a 0ne month window.
The price includes customized eyes and spot color. The overall color is still black.
You will be contacted via your e-mail and asked for your choice of colors. You can also address all further enquiries via this thread.
For this reason it is vital to have a valid e-mail address on your paypal account, and a reply to confirm is essential. You will also be asked to confirm your delivery address.
Payment is via paypal.
Postage is included.
One size fits the vast majority of customers. If you have a particularly large or small head, please let me know.